Friday, May 1st, 2015

(Image: Cat as King Cryolophosaurus)
I have been on tour with Jim Henson's Dinosaur Train Live– Buddy's Big Adventure, since the first of the year! It has been a wild ride– from Colorado through to Texas, up to the Dakotas, down and across to California, up into Washington, all which way until Kentucky, and then up up up into Canada, back down into the US… whew! And now we're resting ourselves and performing our final NY shows before taking the long drive to Florida for our final week together. We have become a family on this tour– after all, we saw the Thing? together; hugged the world's largest pistachio; visited a number of weird old Dinosaur parks; gazed at (and drove ourselves through) lots of beautiful countryside on our epic drive across the country; had our luggages stolen in Fresno; saw Niagara Falls; took trains, planes, and automobiles; visited some of the most iconic music destinations; and even made our own puppets on our days off in hotels. We have eaten our way through many strange meals, survived many hardships, experienced many joys, slept in many hotels, and have really become a big weird family. As a puppeteer, and as the swing especially, I have had the blessing of learning how to skillfully operate (sometimes with short notice) all of the puppets on our tour– even ones I wasn't hired to perform!

(Image: Cat as Buddy T-Rex)
I am physically stronger than I have ever been, mentally more able to hop between characters like a little bunny, and definitely a lot more patient and focused than I was before this tour. I have learned a lot, and I have the folks at Gables Grove, Mills Entertainment, and Mungioli Theatricals, to thank for it– as well as the cast and amazing team! It's been a heck of a ride on the Dinosaur Train… here's to another week or so of excellence– ALL ABOARD!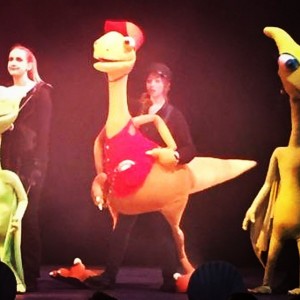 (Image: Cat as Mr. Conductor)
Comments Off on Tour is Winding Down!