Sunday, February 21st, 2016
A wonderful and flattering review by Jeffrey Gillespie for the Ashland Daily Tidings!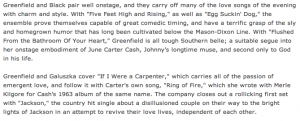 "Greenfield and Black pair well onstage, and they carry off many of the love songs of the evening with charm and style. With "Five Feet High and Rising," as well as "Egg Suckin' Dog," the ensemble prove themselves capable of great comedic timing, and have a terrific grasp of the sly and homegrown humor that has long been cultivated below the Mason-Dixon Line. With "Flushed From the Bathroom Of Your Heart," Greenfield is all tough Southern belle; a suitable segue into her onstage embodiment of June Carter Cash, Johnny's longtime muse, and second only to God in his life.
Greenfield and Galuszka cover "If I Were a Carpenter," which carries all of the passion of emergent love, and follow it with Carter's own song, "Ring of Fire," which she wrote with Merle Kilgore for Cash's 1963 album of the same name. The company closes out a rollicking first set with "Jackson," the country hit single about a disillusioned couple on their way to the bright lights of Jackson in an attempt to revive their love lives, independent of each other."
"While Black, Carey and Leistner all give solid performances and deliver well for the company as a whole, the standouts of the evening were Galuszka and Greenfield — their chemistry and musical talent gave the audience moments of transcendence. Greenfield, in particular, showed her strength as a multi-instrumentalist with a celestial singing voice. Her performance alone is worth the price of admission.
As a whole, "Ring Of Fire" is a loving tribute to one of the most influential musicians of the 20th century. With a tight-knit group of musicians and a responsive audience working hard to honor his legacy, Johnny Cash can continue to happily roll around heaven, all day."

http://www.dailytidings.com/article/20160219/NEWS/160219815
And a Trip Advisor review!

"…The show was outstanding. All the performers/musicians were top notch. Cat Greenfeild stood out and was incredible. She really brought an element of emotion to the performance that we both enjoyed thoroughly."
http://www.tripadvisor.com/ShowUserReviews-g29998-d8003182-r347590265-Oregon_Cabaret_Theatre-Ashland_Oregon.html#
Also a quick one from LEE JUILLERAT, for the Herald and News:

"And sometimes Catherine "Kit" Greenfield, the lone female, is sometimes Cash's wife, June Carter Cash. Greenfield is the show's ultimate performer, whether vocally soaring in "Sweet Bye and Bye," energetically belting out "Ring of Fire" and "Jackson," providing visual humor in "Flushed" and "While I've Got It On My Mind," and variously playing an autoharp, guitar, mandolin and banjo."
http://www.heraldandnews.com/members/limelighter/ring-of-fire-cast-steers-away-from-imitating-johnny-cash/article_32bea736-74e2-57fb-a449-1fd40f18cc25.html
Thank you to everyone who's come out so far! Ring of Fire is playing at the OCT until April 17th– come on out and let us sing you a story!
Comments Off on More Reviews for Ring of Fire at Oregon Cabaret Theatre!